BE YOUR OWN PHOTOGRAPHER
Rent our instant film photo booth kits
Perfect for DIY events, we rent out everything you need to put together your own photo booth.
Just place your order for a camera, specify how many Polaroids you need, add on extras, and you are good to go.
Pick up your kit after 10 a.m. on your rental day and return it before 10 a.m. the next day.
We deliver to events in the Portland area!
CAMERA
Prop Box
Backdrop
100 Polaroids
Our basic kit includes an instant film camera, fun props, 100 Polaroids and a fabric backdrop (optional). In addition, you can add on any of the items below:
EXTRA FILM
$25 per 20 Polaroids
$150-$200
Handmade leather registry book with two lines of personalized text stamped on the cover. Measures 8"x6.5" or 10.5"x10.5" with 160 pages. Choose from 8 colors.
$120
Handmade leather photo album with two lines of personalized text stamped on the cover. Measures 5"x6.5" and holds 100 wide or 200 square photos. Choose from 8 colors.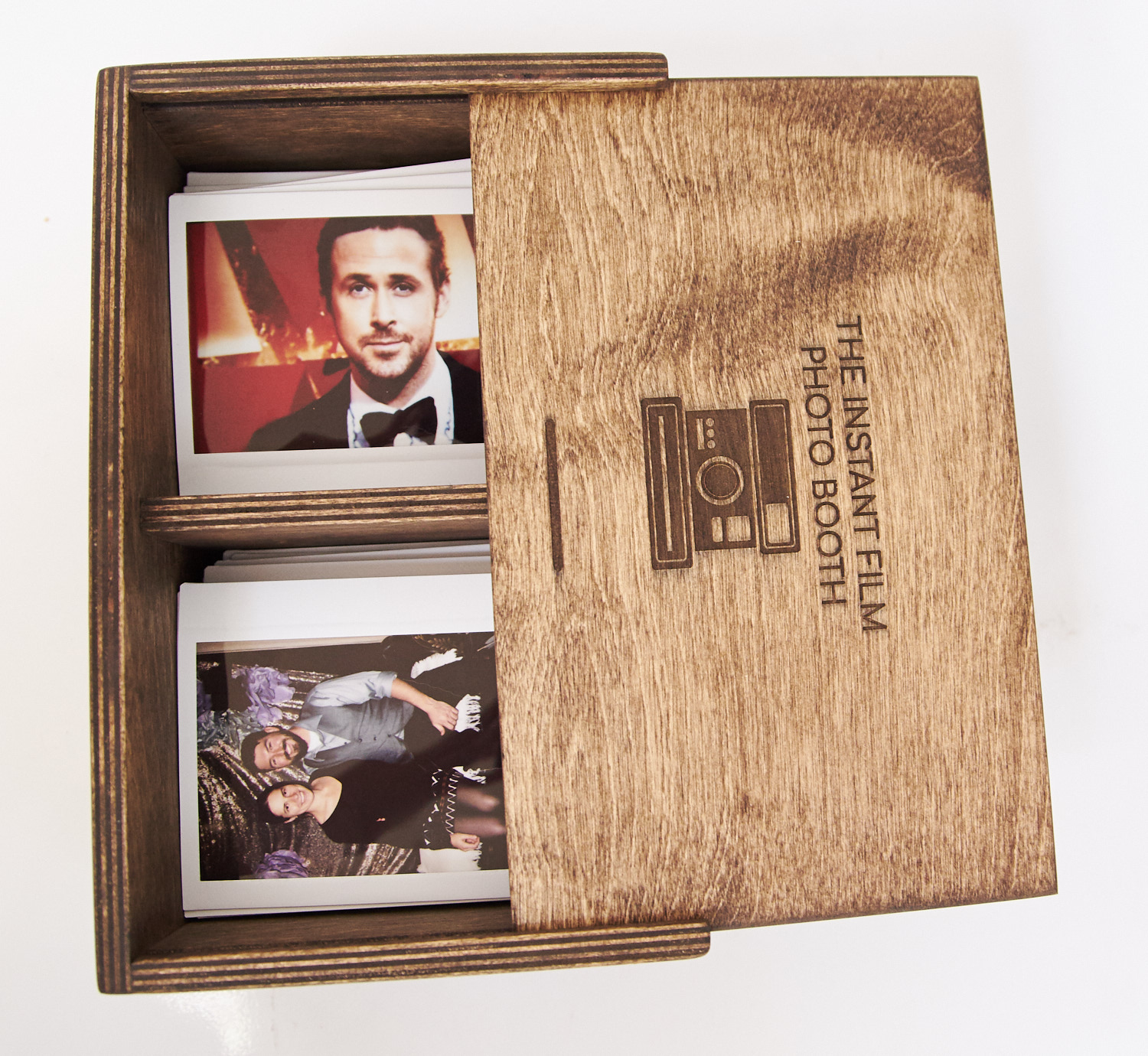 $85
Personalized wood box that holds 140 photos. Choose from five colors.
FREQUENTLY ASKED QUESTIONS
WHAT'S THE DIFFERENCE BETWEEN RENTING A KIT AND BOOKING A PHOTO BOOTH?
Renting a photo booth kit is a completely DIY affair. You receive a box containing a camera, instructions, props, a backdrop (if requested) and film, the rest is up to you! When you book a booth, you get a professional photographer shooting Polaroids and digital photos with professional lighting. You also receive a digital gallery of all the shots we made. When you rent a kit, you are setting up everything and taking all the photos yourself. Booking a booth is for those who want everything taken care of. Renting a kit is perfect for those who are fine taking their own Polaroids.
WHICH CAMERA IS BETTER? THE WIDE OR THE SQUARE?
Both cameras take amazing photos and are a ton of fun. Here is a rundown of their basic differences:
SQUARE
Image measures 2.4 x 2.4 inches
Hybrid digital/Polaroid camera
LCD viewfinder screen for composing photos
Software has flash controls and filters
WIDE
Image measures 3.9 x 2.4 inches
Does not make digital copies of the photos.
Basic viewfinder for point-and-shoot photos
Has manual and auto flash controls
Still have questions? Check out our FAQ page.
Is renting our full photo booth service a better option for you? See our packages page to get a quote.
CHECK AVAILABILITY
Fill out the form below to see if our kits are available on your event day. We'll be in touch shortly!
Need answers NOW? Text us at 385-212-4847.
Photo booth kits are only available to events based in Portland and surrounding areas. We do not ship photo booth rental kits.